---
We're excited for the start of the 2020-21 academic year! We know you're excited to start the year and anxious to start your planning. Below you will find general information regarding move-in day. In the coming weeks, we will distribute additional details that will help you and your family finalize plans! 
---
New student move-in is scheduled for Saturday, August 22 and Sunday, August 23. Each new resident will be assigned a specific move in appointment time and date. We are diligently planning to provide the safest and healthiest move-in experience for all students, families, and staff! It is very important that you arrive within your assigned move-in time.
Move-In appointments will run from 8am to 5pm. Your specific move in appointment will be distributed in early July with your roommate and room assignments.
Please keep an eye on this page and read your email thoroughly. We will update you by email and update information here at the same time when we are ready to share more details about move-out with you.
Details at that time will include information about questions such as parking, entering and exiting the building, and finding your room.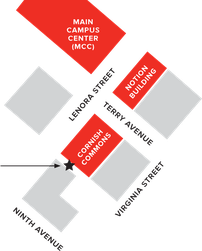 ---
In past years, continuing students have had a lot of flexibility in determining when they want to move into Cornish Commons. With the current pandemic of COVID-19, continuing students will sign up for a specific move-in appointment. When students move in during a particular window, we're able to reduce crowding and make sure everyone is where they need to be at the right time.
Continuing student move-in appointments will run from Monday, August 24 through Saturday, August 29. Please use the sign-up link in your Room Confirmation email in order to make yours!
---
While it might seem like a long ways down the road, it's not too early to start thinking about important dates for housing.
November 24, 2020 - Last day of in-person classes. We will remain open through the end of the semester.
December 12, 2020 - Remaining students living at Cornish Commons must leave for winter break by 12 pm. Students must reach out to us if they are interested in making arrangements to remain at Cornish Commons over winter break.
Student are allowed to keep items in their room during winter break. 
---
The Housing Contract outlines a lot of important information about being a resident in Cornish Commons. For your convenience, we've provided a copy of the contract here for your to review if you have any questions. Returning student contracts filled out before May 1, 2020 are identical with the exception of some personally identifying information on the first page.
Cornish Commons 2020-21 New Student Housing Application
COR 2020-21 New.pdf
Adobe Acrobat Document
269.5 KB
---
What can I expect from Cornish Commons staff on move-in day?
You may not be able to see it from behind our face coverings, but you can expect smiles, excitement, and diligence! Our team will be here to answer questions, chat about life, and work endlessly to provide you and your move-in helpers with a great move-in day experience.
Can my family or friends help me move into my room?
We will allow one move-in helper to accompany you into Cornish Commons and up to your room. Please use the link in your Room Confirmation email to approve your helper beforehand.
Can my family or friends stay with me overnight after I'm moved in?
In accordance with public health and higher education guidelines, Cornish Commons will maintain restricted guest access throughout the course of the fall semester. As such, after your move-in is complete, your move-in helper will need to depart Cornish Commons by 5pm on your assigned move in day.
What if I'm assigned a time that doesn't work for me?
If something about your move-in day doesn't work, email us at housing@cornish.edu. Our team will always do our best to accommodate your needs. Please just keep in mind that we are working with hundreds of students, so patience and flexibility is key in reaching an optimal outcome.
What do I bring to Cornish Commons?
You can find a complete list of what you should consider bringing for your room in Cornish Commons on our What to Bring page. If you have any questions or are unsure of a specific item, please refer to the housing contract or email us at housing@cornish.edu.
When will I know my mailbox assignment?
Mailbox assignments and your mailing address for the academic year were issued in your Room Confirmation and Move-In Information email. Check your cornish.edu email for details!
Where can I get additional information?
You can check out these other, supporting resources: 
Follow our social media: we're on Instagram and Facebook!
Keep an eye on your email, because we will be sending you room confirmation, important updates, and anything else you need to know.
Feel free to email additional questions to us at housing@cornish.edu. 
---
Do we need to wear face coverings during move-in day?
Yes. Please plan for you and your move-in helper to wear a face covering for the duration of the time spent outside of your residential room. Face coverings will continue to be required as part of campus life this year, so let's start the year off on-board! With the creative nature of our student population, we're sure you'll witness some truly inspiring pieces throughout the day!
How is Cornish Commons reacting to COVID-19?
We're not just being reactive, we're being proactive about the health and safety of our community. For example, we have reworked our move-in process so we can avoid risky crowding! You can learn more about what we're doing on our COVID-19 Protocols page. 
What should I be thinking about before my arrival?
There are many topics that should be discussed prior to your arrival at college. Work with those closest to you to establish a check-in plan so that the busy college schedule doesn't leave your loved ones worrying about you.
How will I know my roommate will act safely regarding COVID-19?
Our team will help you and your roommate discuss this and other concerns through the roommate agreement process. This is a great topic to discuss ahead of time to make sure you start getting on the same page!
Do I have an insurance card? How will I establish a primary care provider in my new city?
Illness is difficult any time but the first time you manage illness on your own, the logistics can become overwhelming. Review your plan for care prior to your arrival so that if and when you become ill, you'll have a plan for a quick recovery.
Do I have a consistent check-in plan with my emergency contact?
Parents and loved ones get worried when they don't hear from us. Be sure to establish some early check-ins in the first weeks and then re-evaluate your check-in schedule as you start to settle into your new life. It's easy to get caught up in your studies and social life, then forget to return that text in a timely manner.
We encourage everyone to embrace their personal responsibilities to our community health this fall. Please stay up to date on all relevant guidelines on campus, in Washington state and nationwide.
---
If you wish to cancel your housing contract, please pay close attention to the cancellation dates, which are outlined in the housing contract when you applied. 
To cancel, you will need to send an email to housing@cornish.edu. We only accept cancellations in writing and the email must be from the student.